The Company
PASS Stanztechnik AG
The family-owned company PASS Stanztechnik AG is one of the largest manufacturers of punching and forming tools. The company is a worldwide leader in special solutions for punching tools for TRUMPF, SALVAGNINI and THICK TURRET systems. The production site of the company is located in Upper Franconia in the city of Creussen; it has 160 employees, for whom it is important to exceed in the sector-specific occupation in order to offer our clients high quality, innovative punching tools and grinding machines as well as ground-breaking special solutions.
Combining high technology and client satisfaction is thereby decisive for us. Satisfying clients' wishes are our priority; therefore, PASS continuously seeks better tool solutions. Thanks to the use of the powder metallurgic steel specific to PASS Stanztechnik AG, our state-of-the-art plant and the fully automatized production processes, our downtimes and tool design are continuously improved, and delivery times are reduced to a minimum. With more than 5000 satisfied clients worldwide and several patents in over 60 countries clearly reflect the successful innovation strategies of PASS Stanztechnik AG.
To remain globally positioned but at the same time regionally strong is the challenge that faces the continuous growth of PASS Stanztechnik AG. It is only through competence, the commitment and the innovative strength of all our employees that we can overcome it. We offer our work force an exciting and challenging working environment with wide-ranging development perspectives as well as high employment security, partly cross-generational.
Our first class personnel, constant innovations and social commitment, as well as our ecological involvement are the basis of the continuous success of the family-owned company. PASS is proud of the result.
Florian Keller
COO
At PASS since: 2004
Education: Dipl.-Ing.
Michael Bauer
CEO
At PASS since: 2003
Education: Advertising merchant
BSc Management / Finance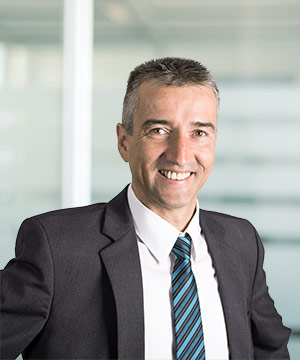 Stefan Kraft
Vice President Sales
At PASS since: 1984
Education: Tool & die maker
Engineer