Life-time of tools / regrind advice
For approximately 30 years we collected technical information from our customers which allows references to be made for operation times of tools and regrinding times.
Today we place this collected data at your disposal with the purpose to facilitate the estimated tool life. The following chart is compiled by indicating the recommended regrind after the relavant quantity of hits as there will be a difference for the regrind of the different machine types (tooling system).
The chart, however, should clarify as well that the punching process contains a big variety of influencing factors affecting possibly more or less the increase or decrease of the punching hits.
A precondition by using this data is an optimal adjusted punching machine with a solid C- or O-frame.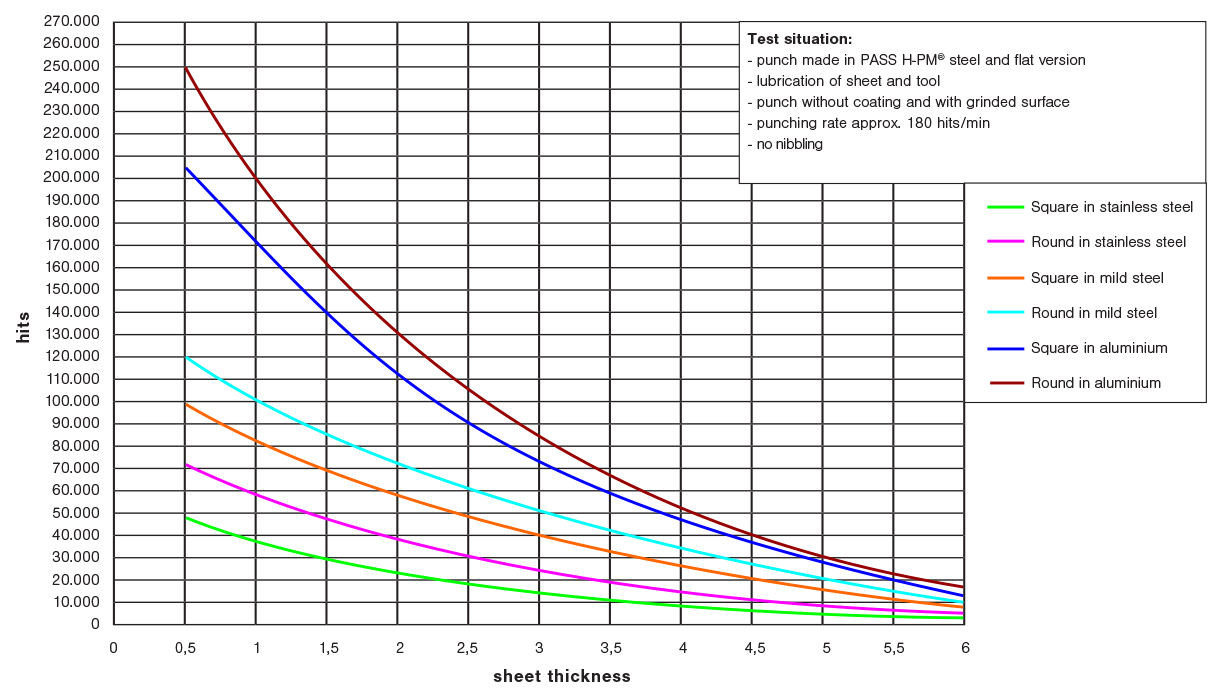 | | | |
| --- | --- | --- |
| Influencing factors | | Factor |
| Zinc coated sheet / stainless steel with foil / aluminium anodized | | 0,5 - 0,8 |
| No sheet-lubrication | | 0,4 - 0,6 |
| Punch coating (TICN for stainless steel / T-MAX for zinc coated steel / A-Max for aluminium) | | 2,0 - 4,0 |
| PASS punch made with special X3-PM steel | | 6,0 - 10,0 |
| Nibbling | | 0,7 - 0,9 |
| Corner-punching | | 0,5 - 0,7 |
| Whisper Tool | | 0,8 - 0,9 |
| Punching rate > 300 hits / min. | | 0,8 - 0,9 |
| Cutting part with EDM surface | | 0,4 - 0,8 |
| Cutting part with polished surface | | 1,5 - 3,0 |
| Cutting part smaller than 1,5x sheet thickness | | 0,6 - 0,8 |
| Cutting part smaller than 1,0x sheet thickness | | 0,3 - 0,5 |
| Using of a too close radius | | 0,4 - 0,9 |
In the following example you will get an idea how the different infuencing factors can effect the tool life:
Factors: square punch / s = 2.0 stainless steel / nibbling / punching rate > 300 hits
A calculation can be variable depending of the factor which will be used:
Using the smallest factor (safety calculation):
| | | |
| --- | --- | --- |
| 22.000 x 0,7 x 0,8 = | | 12.320 |
| (hit quantity (chart) x factor nibbling x factor punching rate > 300 hits) | | hits until regrind |

Using the biggest factor:
| | | |
| --- | --- | --- |
| 22.000 x 0,9 x 0,9 = | | 17.820 |
| (hit quantity (chart) x factor nibbling x factor punching rate > 300 hits) | | hits until regrind |